At Kisatchie Studio, we call our plant holders Fusions and they combine glass, metallics, and nature. The result is an artistic approach to the traditional plant holder. Why set another plant on the shelf when it can be hung on the wall? Our plant holders were originally designed for Tillandsia, also known as air plants. We now offer holders for small ceramic pots.
We begin with crafting a unique piece of glasswork with 3 dimensional qualities. Each is one of a kind, signed, numbered, and dated with the year it is made. Small works are simple, yet elegant. They catch light and compliment any setting. Larger pieces are abstract works of glass art with high relief and an organic personality. Sizes range from 5 to 8 inches high and 3-4 inches wide. All are made with a sleeve that accepts removable wire work, which in turn holds the plants.
We fashion the wire work for each piece. Small plant holders have a nice simple design to match the glass and provide a secure place for a small pot or air plant.  Larger pieces have more complex baskets to accompany the glass work. All wire work is made with 14 gauge solid red brass, yellow brass, bronze, or copper.  Copper wire is never used for Tillandsia holders as it is fatal to this kind of plant. The wire is strengthened and can easily accept small pots. Good air circulation for Tillandsia comes with the open style of our wire work.  Since the wire is removable, plants can be watered or misted easily.
Kisatchie Studio Fusions come with a high quality wall mount and will adorn any room with proper light for plants. Fusions include the glass piece, wire work, wall mount, and small ceramic pot if applicable.  We do not sell plants of any kind on line and plants are pictured for demonstration only.
Tillandsia magnusiana
Tillandsia streptopylla x brachycaulous

"Eric Knobloch"
Tillandsia filifolia
Tillandsia tricolor x melanocreter
Tillandsia streptopylla x brachycaulous



"Eric Knobloch"
Tillandsia andreana
Tillandsia ionantha
Tillandsia strictia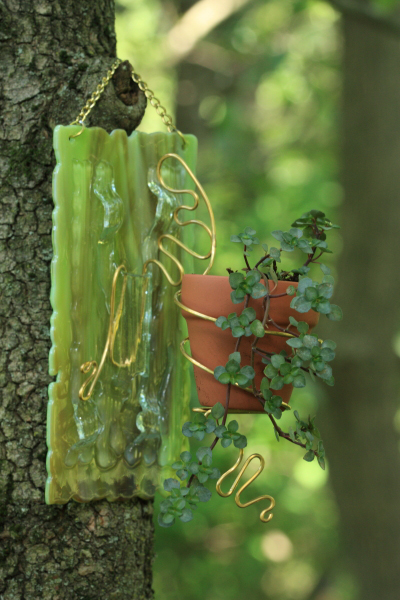 String of Perls
Sedum