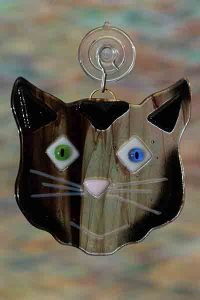 Kisatchie cats are designed to make everyone smile.  While they are all the same style, each one has a unique expression.  Some are goofy, some are thoughtful, some are just a little mischievous.  Feline lovers will probably see a cat they know.
Kisatchie cat faces are hand cut, about 4 inches by 4 inches, and come with a suction cup.  Features such as eyes, nose, and ears have a high relief.  The hanger is 18 gauge solid brass wire and fused into the glass.

Three colors are currently available on line.  Other colors of Kisatchie Cats can be found at our Craft Shows.
Lily Cat - Lily is the newest addition to the Kisatchie Cat family. Lily is a green eyed white cat living in the Bay Area.  She is a sweet feline & loves to sit in a window sill.  Lily cats are made with white and clear streaky glass and soft pink ears.
Max Cat - Max had a big heart but was just a bit naughty.  Max cats are made with black and clear streaky glass.
Manu Cat - Manu was rescued after a big snow storm. Big cat, big attitude, and fearless.  Manu is a gray cat with either dark blue or black glittery cheeks.
All Kisatchie Cats are $15.00 at Craft Shows.

Max Cat

Max Cat

Max Cat

Lily Cat

Lily Cat

Lily Cat

Manu Cat

Manu Cat